Podcast: Play in new window | Download
Subscribe: Apple Podcasts | Google Podcasts | Spotify | Amazon Music | Android | Stitcher | TuneIn | RSS | More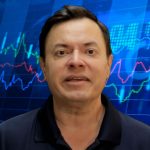 In today's episode I interview long-time stock trading friend Ken Calhoun from "Trade Mastery."
Ken day trades and swing trades, looking for stocks that are breaking out with strong moves.
Ken Calhoun is the president of TradeMastery.com and StockTradingSuccess.com (with Steve Nison). Having provided online training to active traders from over 32 countries since 1999, he is an internationally published trader who's earned industry acclaim for his professional trading systems.
Mr. Calhoun has been featured in leading trade publications and events such as Technical Analysis of Stocks and Commodities magazine, Active Trader magazine, Equities.com, TheStreet.com, Equities.com and CBS MarketWatch.com. He is a graduate of UCLA and has traded millions of dollars of stocks, ETFs and more during his active trading career.
Here are just some highlights from the interview:
The P&L is the best "indicator."
How he day trades and swing trades equities.
Which days of the week he finds his best trades.
The qualities he looks for in a good stock trade.
Why "getting paid" is the most important aspect of trading.
When he holds a trade overnight and when he doesn't.
The ONE trade setup that he would trade if he could only trade one strategy.
Why he enters on chart patterns but exits on the "P&L."
Ken's favorite book:

"Beyond Candlesticks" by Steve Nison.

Ken's favorite trading quote:
Ken's favorite trading resources:
Ken's Special Offer:

Ken's Free Saturday Trading Webinars:

Ken's web site:
---
Get my free gift for you, for FREE, Top Dog Trading's "Top 10 Trading Rules for Success."
These are 10 things I changed in my trading to become successful over the last 50 years. They're also the top 10 things that have helped my students shift from move
from losing money to making money.
Bottom line, no general theories or abstract ideas here. This is the practical stuff that can really work to bring real and dramatic change to your trading results..
It's a mini-course that contains a pdf Special Report and 3 videos. Get right now by simply going to: http://www.onlinetradingtowin.com/tenrules
Go get it for free while the show is still new.